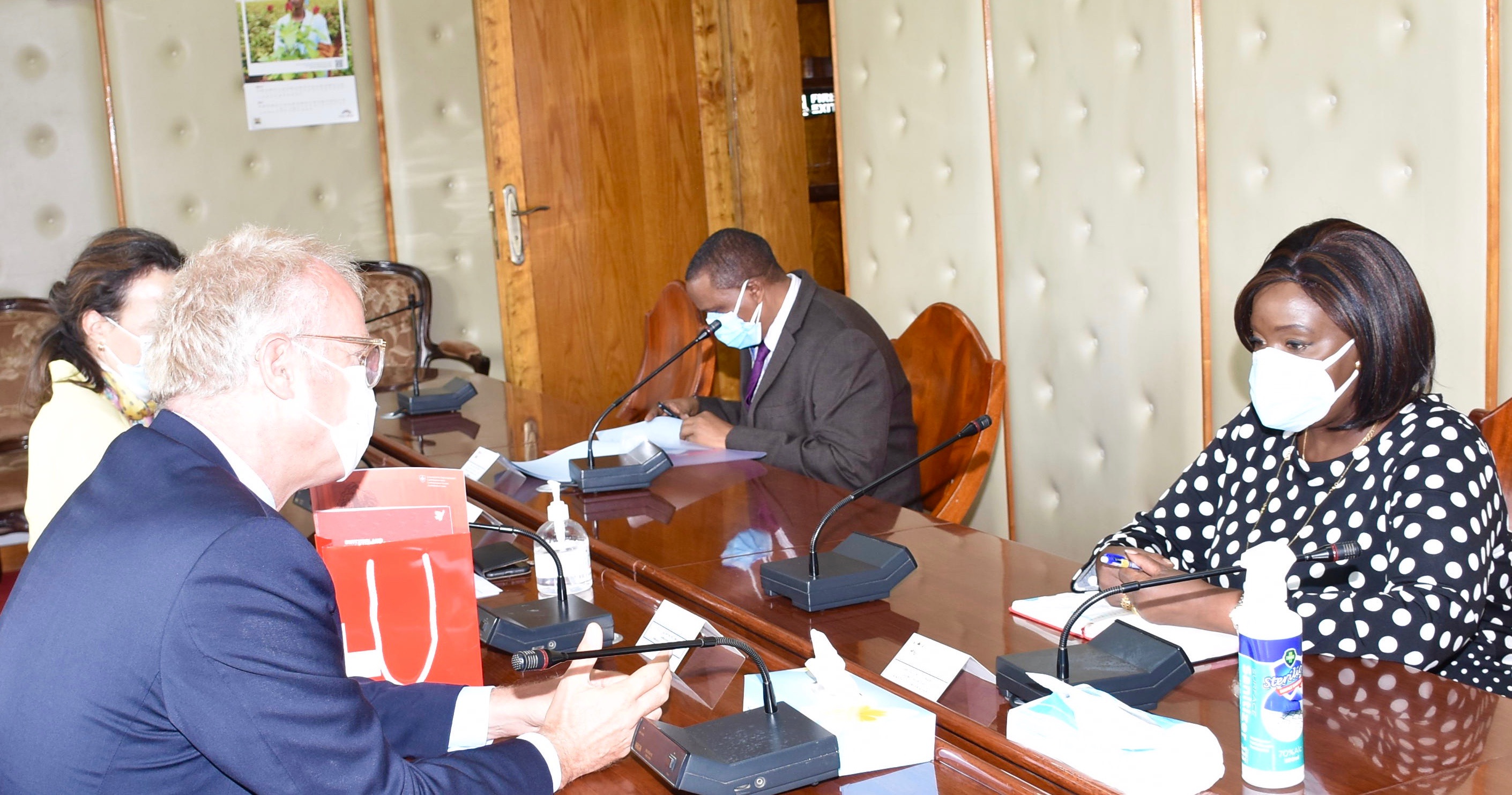 Switzerland Ambassador Valentin Zellweger holds talks with Foreign Affairs CS Raychelle Omamo/ MFA
---
Switzerland Ambassador Valentin Zellweger on Monday held talks with Kenya's Foreign Affairs CS Raychelle Omamo.
A dispatch by the Ministry of Foreign Affairs said the two diplomats discussed bilateral and multilateral issues, including strategies of enhancing Kenya-Swiss ties.
Switzerland Embassy said they share with Kenya "a lot of common interests".
The mission also said other than bilateral and multilateral issues, CS Omamo and Amb Zellweger also discussed the new Swiss strategy for Africa.
The Sub-Saharan Africa Strategy 2021-24 is a geographical follow-up strategy to the Foreign Policy Strategy 2020–23 and was approved by the Federal Council on January 13, 2021.
🇨🇭 and 🇰🇪 share a lot of common interests. CS Amb. Raychelle Omamo & Amb. Valentin Zellweger discussed bilateral & multilateral issues today, incldng the new Swiss strategy for Africa. Thank you for the warm welcome, CS Omamo @ForeignOfficeKE
🇨🇭 Strategy: https://t.co/coq3QhS0ZT pic.twitter.com/MueGzcfAE6

— Embassy of Switzerland in Nairobi (@SwissEmbassyKE) May 3, 2021
In the foreword of the report, Ignazio Cassis, the Head of the Federal Department of Foreign Affairs said the strategy was necessitated by the importance the region has become for Switzerland.
"Many new opportunities are also emerging for Africa. Secondly, Switzerland has well-established ties with sub-Saharan Africa in view of its geographical proximity, cultural richness and economic potential," Cassis writes.
He adds that on visits to the region, "he discovered first hand there is great trust in Switzerland and strong interest in cooperation. The continent has much to offer, which is why Switzerland has gradually increased its presence".
The key areas of focus (thematic areas) are peace, security and human rights, prosperity, sustainability and digitization.
Regions of focus in the strategy are Sahel, Horn of Africa and Great Lakes Region as well as regional organisations.
Kenya is currently chairing the East Africa Community and is a member of the AU Peace and Security Council.
Devolution is one of the great achievements of last years in Kenya – Switzerland envoy