The Kenya-Somalia bilateral relations seem to have gotten to a point of no return after Nairobi recognised Somaliland as an independent country.
On Thursday, Kenya's Foreign Affairs Principal Secretary Ambassador Macharia Kamau held talks with Somaliland Minister of Foreign Affairs and International Cooperation Yasin Hagi Mohamed and "discussed issues of mutual interest between the two countries and ways of strengthening the cooperation".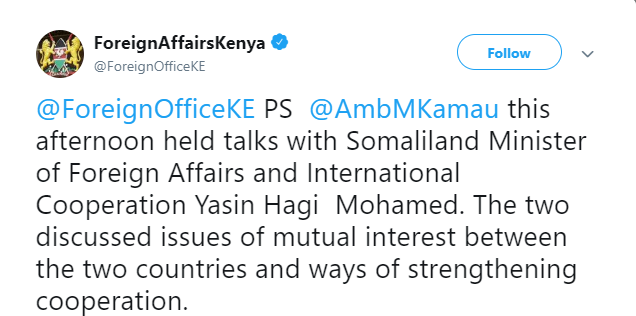 The breakaway state of Somaliland has been a self-governing region of Somalia for more than 20 years, but its claim of independence is not recognized by Mogadishu or any foreign government, despite lobbying since 1991.
It has hundreds of miles of coastline along the Gulf of Aden to the north, and it borders Ethiopia to the south and west and Djibouti to the northwest.
This development follows a sustained push to shun Somalia, after it allegedly marketed oil blocks in the contested waters in the Indian Ocean maritime border dispute.
Somalia took Kenya to the International Court of Justice in 2014. The court on Tuesday announced the case will be heard between September 9-13.
In May this year, Kenya suspended direct flights from Mogadishu to Nairobi for security reasons but Somalia has asked for reconsideration, saying the decision was politically motivated.
On May 11, the BBC reported that the flights had been suspended and that planes would henceforth land in Wajir for security checks.
Kenya had only in December last year launched direct flights to Mogadishu from Nairobi's Jomo Kenyatta International Airport after signing an agreement in March 2017.
During the relaunch, KQ's Chief Executive Sebastian Mikosz said he believed the new route would ease travel for thousands of Somalis who live in Kenya as well as those from the diaspora traveling to their country.
On Tuesday, July 25, Somalia media reported that Kenya Airways was considering Hargeisa, the capital of Somaliland, as its next destination in the Horn of Africa.
On October 26, 2018, however, the then Somaliland's Foreign Minister inaugurated their new liaison office (not an embassy although equivalent to a consulate), becoming the largest liaison office abroad.
The latest move was greatly welcomed by Somaliland officials.
"We are in a volatile region affected by the extremist groups like Al Shabaab and its financiers in Mogadishu. We must strengthen the cooperation we had up to the highest level," Abdirashed Ibrahim, the Director General of the Ministry of Planning and National Development, said.
"As the deputy minister of Education, I applaud the cooperation between our two countries. We have a large number of Kenyan teaching at our schools and universities," Mohamed Dahir Ahmed said.
Shadow Minister for Commerce and Industry Mukhtar Geerare noted that strengthening the relations between our two countries will serve for the benefits of the two nations and that of the region.