President Uhuru Kenyatta has yet again said no effort will be spared in ensuring corruption is completely destroyed.
"We will remain focused on the fight against corruption. We hope that every institution will play its part to make this war successful," Uhuru said at State House, Nairobi, when he separately bid farewell to outgoing EU Ambassador Stefano Dejak and British High Commissioner Nic Hailey on Wednesday.
The President commended the two envoys for strengthening relations between Kenya and their respective jurisdictions during their tour of duty.
Uhuru said Kenya appreciates EU's partnership for promoting development, adding that he looks forward to more collaboration as the country explores the blue economy as an emerging frontier for wealth and employment creation.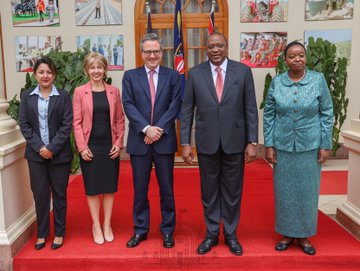 UK High Commissioner Nic Hailey, President Uhuru Kenyatta and Foreign Affairs CS Monica Juma at State House on July 31/ PSCU
In the meeting with Hailey, the President said the UK remains one of Kenya's biggest trade partners.
"We hope to continue with the journey we began on empowering the youth through small and medium enterprises," the President told the outgoing British High Commissioner.
Hailey told Uhuru not to loosen his grip in the fight against graft, saying this will restore Kenya's dignity and entrench its position as "a thriving and progressive economy in Africa".
"The war against corruption in Kenya is restoring investors' confidence. The EU will remain a strategic partner of Kenya not only on the economic front but in the fight against corruption as well," Ambassador Dejak said.
Hailey commended the President for arresting senior government officials implicated in corruption.
He assured Uhuru that trade between the two countries will continue to grow whether or not there is a Brexit deal.