Foreign Affairs CS Monica Juma on Thursday met the Technical Evaluation Team of the African Union and presented Kenya's bid to host the Secretariat of the African Continental Free Trade Area.
She was accompanied by CBK Governor Patrick Njoroge and Foreign Affairs PS Ambassador Macharia Kamau, while the AU team was led Ambassador Rosette Nyirinkindi Katungye.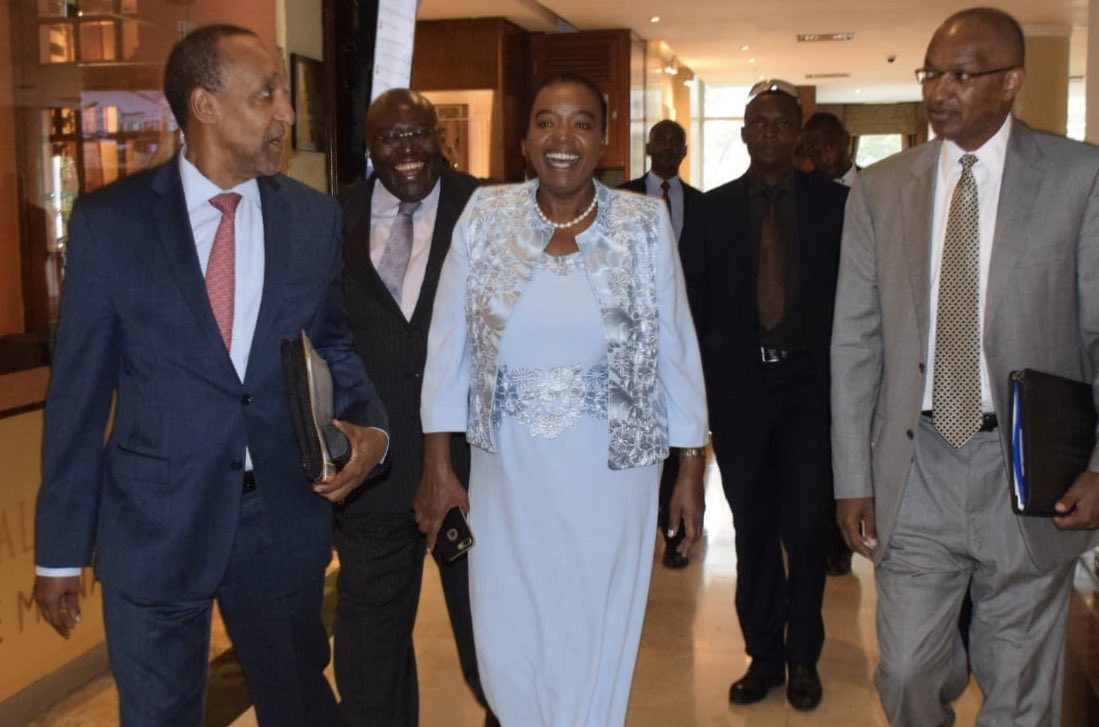 Foreign Affairs PS Amb. Macharia Kamau, Political Secretary Tom Amollo, CS Monica Juma and CBK Governor Patric Njoroge at Intercontinental Hotel on Thursday / COURTESY/ MFA
The permanent office is expected to start work in July this year.
Among the issues they are expected to look into include facilities and safety, after which they will make recommendations to the Council of Ministers at the AU.
Kenya, one of the leading diplomatic hubs in Africa, is battling with Ghana, Senegal and Egypt; all who signed on the AfCTA when it was launched in Kigali in March last year to host the permanent office.
Fifty-two out of the 54 African states have signed the free trade agreement, which is expected to create Sh300 trillion continental free-trade zone encompassing 1.2 billion people for movement of goods, traders and human resource with little restrictions.
The deal, which Nigeria has not been committal about, commits governments to remove tariffs on 90 per cent of goods produced within Africa and phase out the levy in the future. It also aims at establishing a single market that will spur industrialisation, infrastructure development, diversifying economy and trade.
President Uhuru Kenyatta signed the landmark agreement in March last year.